Every year, I'm generally among the 38.5% of the population of the U.S. that sets New Year's resolutions. Because things were so chaotic for us during the last two weeks of last year, I didn't get around to even thinking about resolutions, much less writing any down. And then, since I got a late start on things for this year, I totally forgot about them.
But in the last few days, I've come up with one thing I'd like to focus on this year. Less guilt.
I feel like I spent a whole lot of time last year feeling guilty — guilty that I didn't get the master bathroom finished faster, guilty that I didn't get more projects done around the house, guilty when I wanted to sit down and watch a movie rather than being up and working on something, guilty that I didn't cook more meals at home, guilty that I've had junk sitting on our front porch over a year now and never made time to get it cleaned off, and the list goes on and on and on. I don't know why, but I just let those feelings of guilt that I'm not doing more really pile up on me.
So I was talking to a friend not too long ago, and she said that she had been thinking about my life, and how I'm a caretaker to Matt (that's my wheelchair-bound husband who has M.S.), and I do projects on our house, etc. She said something to the effect of, "It really hit me that you do everything! Literally not a single piece of trash gets taken out of this house unless it's taken out by you."
That really struck me. She's not wrong. Matt isn't able to help me with anything. He can't cook, clean, take out the trash. He's in charge of the budget and paying bills, but everything else is on me.
Not a single piece of trash gets taken out of this house unless it's taken out by me.
Not a single meal gets cooked unless it's cooked by me.
Not a single dish gets washed unless it's washed by me.
Not a single thing gets dusted unless it's dusted by me.
Not a single article of clothing gets washed unless it's washed by me.
Not a single floor gets mopped unless it's mopped by me.
I could go on, but you get the point. Literally nothing in this house gets done unless I do it. No one's coming to help (at least not on a regular basis, but my sweet mom is always willing to help if I'm in a time crunch and need something done). So if I don't do the things…all the things…they don't get done.
I'm not saying all of this to complain. I know there are many people, like single mothers to toddlers, other people who find themselves in the roll of caretaker to a spouse, etc., who are in the same position.
I'm saying it because as we were talking, and as she was pointing out these things, and as I spent the next few days thinking over our conversation, something in my mind shifted. Rather than being bogged down with feelings of guilt for not doing more, that guilt seemed to morph into a feeling of, "You know what? I'm doing pretty good!"
No, things don't always get done. Yes, sometimes the dirty dishes pile up a little too much before I tackle them. Yes, sometimes I'm scrambling to get ready to go somewhere because I can't find a clean shirt that I want to wear. 😀 But overall, I'm doing pretty good. Most of the time, I don't feel like I'm drowning. I feel like I'm keeping my head above water, and I have plenty of strength to keep on treading.
So I've been mulling this over for a few days now — this new change in mindset that that feels so freeing and involves zero guilt. In the meantime, I signed up for a new class at the church I go to. (I promise, this is relevant. 😀 ) My church doesn't have "Sunday school classes" like a lot of churches do. We have what's called Equipping Classes, and new classes are offered at the beginning of each new semester. (This is Waco, the home of Baylor University, so this schedule works for college students.) And each semester, new Equipping Classes are offered on new topics.
Well, I chose an equipping class and signed up. And then I got an email with a link to a Google drive with loads of documents in it and instructions about how the class would be conducted. Each week, we'd be expected to do some reading, answer some essay-type questions, and come to class prepared to discuss what we had read and the answers to the questions.
I mean, there were pages and pages and pages. My first thought was, "Ummmm…did I just sign up for a seminary course?! I don't have time for a seminary course right now!" But the class is on a topic that really interests me, so I really wanted to take the class.
My friend (the same friend from above) signed up for the same class, and she was also a bit surprised at the amount of "homework" required by the class. As we were discussing it, she said something like, "Well, do you think you'll have time for it?" And my response was something to the effect of, "You know what? I'm just one person, I have a lot on my plate, and I only have so much time. I want to take the class, so I'm going to do what I can, not do what I can't, and feel absolutely zero guilt about it."
Once again, when I said that, there was something so freeing about that mindset. I didn't need to back out of the class. I haven't enrolled in seminary. I'm not working towards a degree. I just wanted to take an eight-week class and learn some stuff. So I'll do what I can when my schedule allows, I'll glean from the class what I can, and I won't stress about the rest. No guilt.
So I've determined that that's my New Year's resolution. My only New Year's resolution. A new mindset for 2023 that I'm not just going to apply to an equipping class that only lasts eight weeks. But it's a mindset that I'm going to make every effort to apply to everything this year.
I'm just one person, and I only have so much time. I'm going to do what I can (while truly trying to use my time efficiently), not do what I can't, and feel zero guilt about it. 😀
Now with that said, let's take a look at where I'm starting off in the home gym. I was able to get a good start on cleaning out this room over the weekend, but I still have a long way to go. And once you see these pictures, you'll understand why it's taking so long to clean it out.
This is what the room looked like on Friday before I started…
This is what it looks like after a year-and-a-half of using this room as a storage room and a workroom for products and projects that went into the master bathroom.
I'm pretty sure that after that amount of time, about half of my tools had found their way into this room, and had been added to the pile of tools in the corner. Going through all of that and putting tools away where they belong was quite the chore.
Then I had leftover materials (lots of walnut veneer!), cleaning products, leftover decorative items, more tools…
Lots of scraps, boxes, sawdust…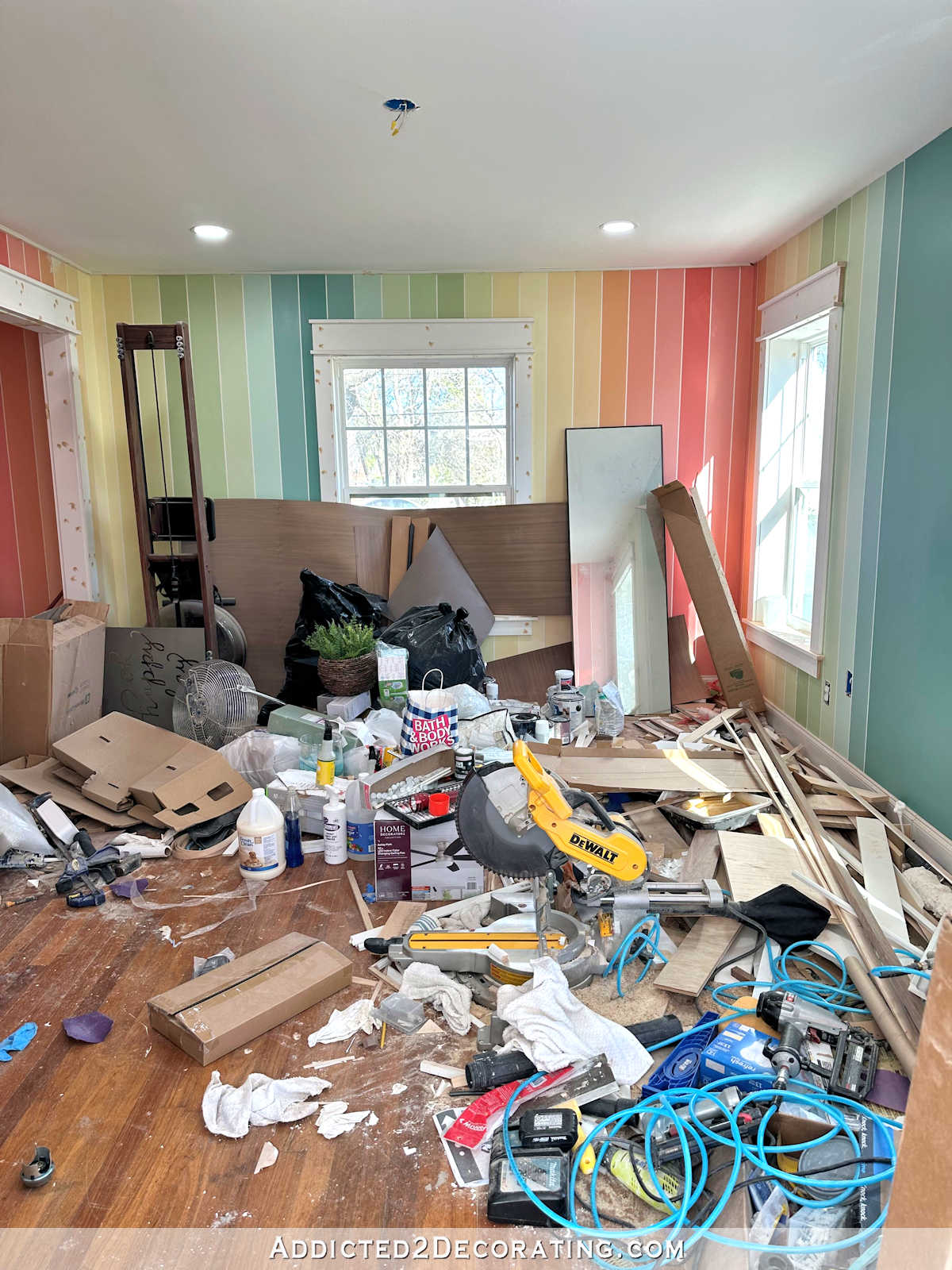 And then this pile. Ugh…I don't know what to do with this pile. Pre-2020, I would have thrown most of this out. But now, with the cost of lumber as high as it is, it's so hard for me to throw out any decent sized pieces of lumber. But where in the world do I store them? I'm having a hard time figuring that out.
So I don't really have any "after" pictures just yet because I only got about halfway through clearing out the room.
But I'm doing what I can with the time I have, and it'll get done when it gets done. No guilt. 🙂
Addicted 2 Decorating is where I share my DIY and decorating journey as I remodel and decorate the 1948 fixer upper that my husband, Matt, and I bought in 2013. Matt has M.S. and is unable to do physical work, so I do the majority of the work on the house by myself. You can learn more about me here.
I hope you'll join me on my DIY and decorating journey! If you want to follow my projects and progress, you can subscribe below and have each new post delivered to your email inbox. That way you'll never miss a thing!