This egg carton reindeer is the perfect way to get your little ones excited about the Christmas season! It's so simple, even young children can help make it.  In fact, this is one of those projects even toddlers can do most of the work all on their own!  love that it only requires a few supplies that are probably already in your home.
Egg Carton Reindeer Kids Christmas Craft
Kids love making crafts to celebrate the season and parents love when there is something simple to keep kids entertained on those cold afternoons. This is one of those simple crafts that you can make even on the spur of the moment.  Egg cartons have long been the base of many fun kids' activities, and this holiday season they can be the first fun holiday decoration everyone will adore! 
Since this is a simple craft, you can make it even when you only have a short time but this craft can easily help kids stay busy on those afternoons when you can't go outside to play. Plus, kids will love seeing their reindeer around the house. Kids can play with their egg carton reindeer or they can turn it into an ornament and hang it on the tree.
Similar Project:  Adorable Paper Christmas Tree Ornament
If kids are making their own presents this year, kids can even attach this reindeer as part of the gift tag on their present.  And if you like the idea of using egg cartons for crafting, we have tons of great ideas!  There is a list of great projects you can make with recycled egg cartons, but a few of my favorites include these egg carton roses or this fun kids' egg carton toy cars project!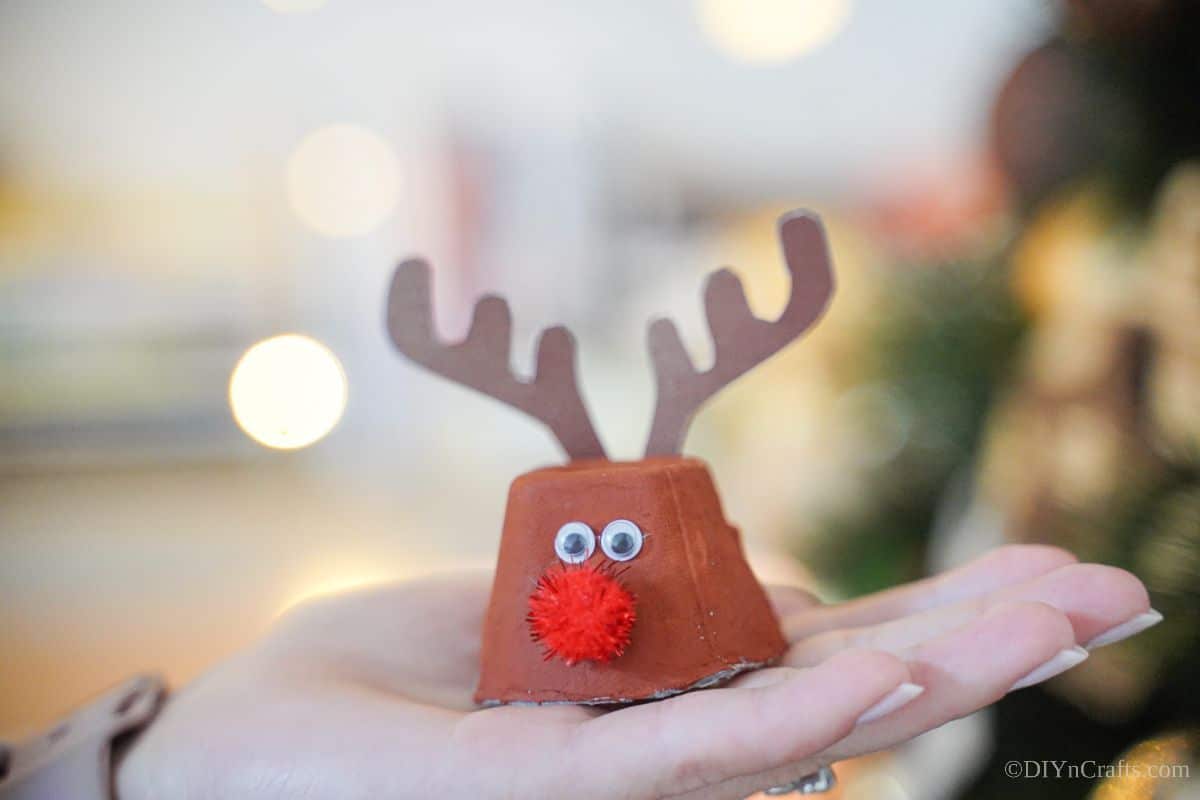 Can I Use Styrofoam Egg Cartons for This?
Generally speaking, I would not recommend using styrofoam egg cartons for crafts that require paint.  While you can use acrylic paints on them, they tend to struggle to stick or end up needing multiple coats.  It is typically easier to use paper egg cartons that can be painted with just a single layer of paint.
What Can I Use to Make Antlers on My Reindeer?
When you are making the antlers for this reindeer, you can use paper, foam, or even cardboard. You can use anything that can be cut into shape. Crafting foam will easily hold its shape as will the craft paper that I used here.  There are also types of felt that are a bit thicker and have a backing that helps it to hold shape and not be floppy or fold over.   
Similar Project:  Cute Upcycled Flower Pot Halloween Characters
Since this is intended to be a simple kids' craft and not upscale, you can use basic construction paper too.  There are also some options in craft stores for ready-made antlers that have been already cut from cardstock or even thin wood.  If you have them on hand already or find them affordably, this could be a good option if you plan to make this a kid's craft project.  If younger toddlers and preschool-aged kids are helping, cutting antlers might be a bit more than they can manage, and this is a good idea. 
Tip:  If you are making this with a lot of kids at one time, use your Cricut Explore Air 2 to cut multiple antlers out easily.  This saves time and is a great way to utilize your tools smartly in the classroom. 
Can I Hang This on the Christmas Tree?
This egg carton reindeer kids' Christmas craft can easily be turned into an ornament. The easiest way would be to glue a string, yarn, or something similar on the top so that the reindeer can hang on the tree. You can also make a small hole in the top of the egg carton and then place the string or ribbon through the hole and secure it on the inside with either glue or a knot.
Similar Project:  Rustic Pinecone Star Christmas Ornament
What Glue is Safe to Use With Kids?
For this egg carton craft, you can use regular school glue, the typical white school glue. Glue sticks, while harder to use on this project, will work if you use a lot of glue. Recently, Gorilla Glue came out with a glue stick that sticks better than traditional glue stick glue and is nontoxic for kids. You want to make sure you are using glue that is non-toxic and can hurt the kids.
Stay away from glues that bond permanently, like super glue or traditional Gorilla Glue, which can glue their fingers together. You also want to stay away from glues like hot glue because the glue is heated to the point that it can cause burns.
Other options I like for this project include tacky glue, school glue, or even using those little sticky glue patches that can be peeled and stuck on the cardboard egg carton to hold the eyes, antlers, and nose. 
Supplies Needed
How to Make an Egg Carton Reindeer
Using a paper egg carton, cut each individual cup out/apart. You need one "cup" per reindeer you plan to make. 
Similar Project:  Rustic Paintbrush Santa Claus Christmas Decoration
Trim around the bottom edge to create a flat surface. 
Paint the cup brown and set it aside to dry. 
While it is drying, trace and cut out two antler shapes from brown paper.  
Glue the antlers to the back top of the egg carton so the "points" are facing outward and the flat edge is facing inward.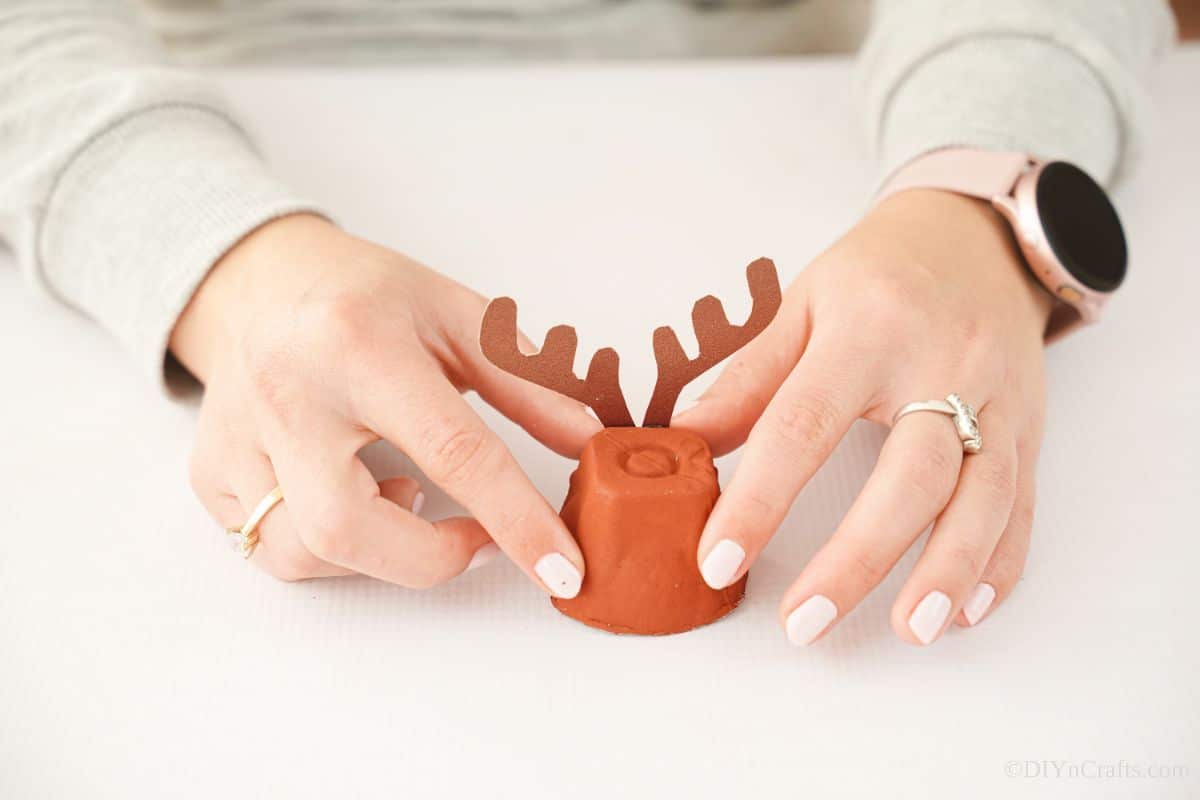 Add the googly eyes just below the top front of the egg carton. 
Then glue on the red pom nose below the eyes. 
If desired, you can add a black marker smile or even add glitter along with the antlers for more sparkle. 
These can be added to holiday displays or even glued onto twine and used as a holiday garland. 
More Reindeer Christmas Crafts
Reindeer are always on the top of my holiday character list of favorites.  Below are some more fun ideas that use the reindeer for inspiration.  You can make all of this, some of this, or even use them for inspiration to create something totally different for your holiday decor.  Make sure that you print out the tutorials, bookmark the posts, or pin them to Pinterest so when you are ready to craft again, they are handy! 
Similar Project:  Craft Stick Peppermint Candy Ornament
Yield: 1
This adorable egg carton reindeer kids Christmas craft is a great way to upcycle while having fun crafting for the holidays!
Prep Time
5 minutes
Active Time
10 minutes
Additional Time
15 minutes
Total Time
30 minutes
Difficulty
Easy
Estimated Cost
$0
Notes
Make multiple reindeer and use black or brown pom poms for noses on most leaving one the "Rudolph" reindeer in the bunch.
Similar Project:  How to Make a Scarecrow out of Popsicle Sticks
Recommended Products
As an Amazon Associate and member of other affiliate programs, I earn from qualifying purchases.
Finished Project Gallery
Customize your reindeer with glitter, beads, or ribbon for a bit more unique look. 
Make multiple reindeer and hang on twine as a garland with only one having a red nose and the rest black so it looks like the real reindeer team.