With just a few simple supplies, you can create beautiful DIY farmhouse toile ornaments that will add a unique and timeless look to your tree. Whether you're a beginner or an experienced crafter, these toile Christmas ornaments are sure to be a hit with your family and friends.
So grab your supplies and let's get started!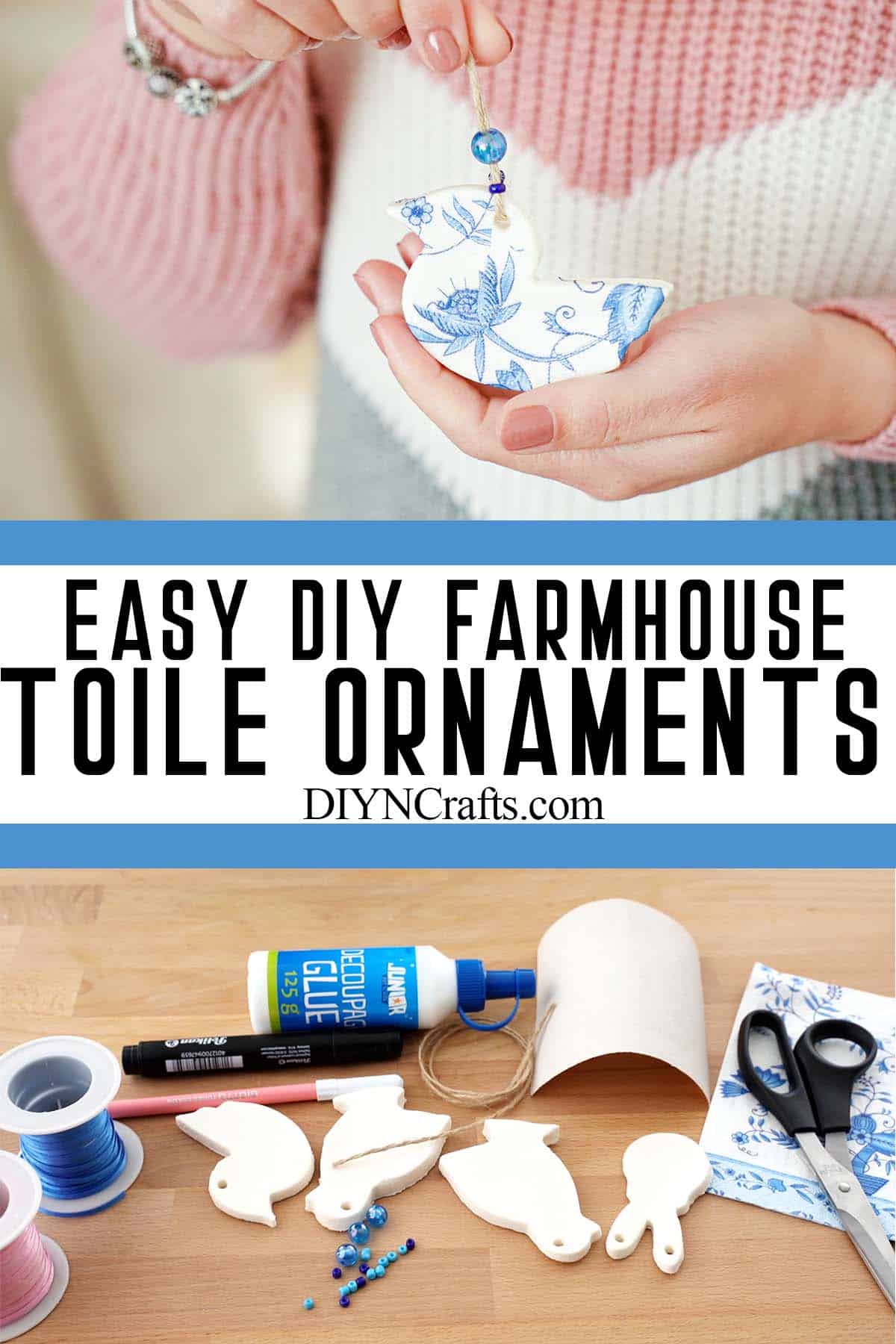 Jump to:
Easy DIY Farmhouse Toile Ornaments
DIY Farmhouse Toile Ornaments are a great way to add a unique and rustic touch to your holiday decorations.
With just a few simple supplies and a bit of creativity, you can create beautiful and unique toile Christmas ornaments that will be sure to impress your family and friends.
Whether you choose to make a classic farmhouse toile christmas ornament or something more modern and whimsical, you can be sure that your DIY Farmhouse Toile Ornaments will be a hit this holiday season.
Need more fun gift ideas for the holiday season? Check out this huge list of Gifts from Leftover Yarn that People Love.
Supplies Needed
Creating your own DIY Farmhouse Toile Ornaments is a great way to add a unique touch to your holiday decorations. All you need is a few simple supplies and a bit of creativity to make your own farmhouse toile Christmas ornaments. Start by gathering your supplies:
For the clay:
2 cups baking soda
1 cup cornstarch
1 ¼ cup water
For the project:
Decoupage glue
Brush
Blue decorated napkin
Molds (chicken, rabbit)
Blue and pink satin ribbon
Sanding paper
Piece of twine
Pink and black marker
How to Make Farmhouse Toile Ornaments
Video Tutorial:
First you need to prepare the clay. For this process you will need a small pot. Pour the 3 ingredients in the pot, place the pot on a medium heat and cook for a few minutes until you get a thick mixture.
Take it off of the heat, place a baking paper on your working surface to prevent stickiness and knead the clay until you are happy with the look. Place it aside to chill a little.
When the clay has cooled down enough, use the rolling pin and work it into a thin layer about 1cm thick.
Cut shapes from the clay using cookie cutters. I used a bunny, chick, and bird.
Make some holes on the top and leave them to harden for at least a few days or if you are in a hurry bake them at 200 degrees celsius for 30 minutes.
Cut or tear the wanted shape from the napkin that will fit on the form.
Place a thin layer of glue on the ornament and place the napkin piece on top.
Cover it with another layer of glue and be careful because the napkin can easily tear. Add blue satin ribbon and this chicken is finished.
Allow the glue to dry completely, then add a hanger with cord, twine or wire and add beads, as desired.
Ideas for Customizing Toile Ornaments for Christmas
Once you have your toile shapes attached to the ornament, you can customize it further with paint, markers, or even fabric glue.
You can draw on a festive holiday scene, or write a special message for the recipient.
You can also add a bit of texture to your ornaments by gluing on some buttons, beads, or other small decorations.
But you could go even a step further, if you're making these as a gift and you can make personalized toile farmhouse ornaments by simply:
Monograms: Paint your initials or those of your loved ones onto the ornaments for a personalized touch. A monogrammed ornament also makes for a thoughtful, personalized gift.
Dates: Commemorate a special date by adding the year onto the ornament. This is particularly splendid for celebrating your first Christmas in a new home or the birth of a child.
Color Choices: Customize your ornaments by choosing toile fabric in your favorite colors. You could match it to your existing holiday decor or even select a color that holds special significance to you.
Embellishments: Add small trinkets, beads, or buttons to your ornament for extra charm. These can be found at your local craft store and can be sewn onto the ornament.
Family Photos: You could even sew a pocket onto the back of the ornament and insert a small family photo. This creates a dual-purpose ornament and photo frame, adding a beautifully personal touch to your tree.
The goal is to create something that reflects your personal taste and holds special meaning for you.
Decoupaging Tips for Christmas Ornaments
Decoupage, the art of decorating an object by gluing colored paper cutouts onto it, can be a great method to customize Christmas Ornaments. Here are some tips to help you have no-fail decoupaged ornaments:
Prepare your Materials: Before starting the decoupage process, gather all your materials. This includes the ornament, decoupage medium (like Mod Podge), a brush, and the paper or fabric cutouts you'll be using.
Select your Cutouts: Choose cutouts that match the color scheme and design. You can use colored paper, old magazine clippings, or even small fabric scraps.
Apply the Medium: Use a brush to apply an even layer of the decoupage medium onto the area of the ornament where you want to place your cutout.
Place your Cutouts: Carefully place your cutout onto the medium. Smooth it out with your fingers or a flat tool to remove any bubbles or wrinkles.
Seal It: Once your cutout is in place, apply another layer of decoupage medium over it to seal it in place.
Dry Properly: Allow the ornament to dry completely. This can take several hours, so be patient!
Repeat: If you want a more layered look, repeat the process with additional cutouts.
Finish It Off: For a glossy finish, apply a final coat of decoupage medium to the entire ornament once all of your cutouts are dry.
The best part of DIY crafts is making them your own. So, get creative and have fun with your decoupage designs!
More DIY Holiday Gift Ideas and Tutorials
Below are more adorable and fun ideas to make and gift this holiday season. Pick your favorites and bookmark them to make soon!
Yield: 3 Toile Farmhouse Christmas Ornaments
DIY Farmhouse Toile Ornaments are a great way to add a unique and personal touch to your holiday decorations.
Prep Time
15 minutes
Active Time
15 minutes
Total Time
30 minutes
Difficulty
Easy
Estimated Cost
$10
Materials
For the clay:
2 cups baking soda
1 cup cornstarch
1 ¼ cup water
For the project:
Decoupage glue
Blue decorated napkin
Molds (chicken, rabbit)
Blue and pink satin ribbon
Piece of twine
Brush
Sanding paper
Pink and black marker
Recommended Products
As an Amazon Associate and member of other affiliate programs, I earn from qualifying purchases.