Current climate changes have modified the ways in which the maintenance of the 15th-century Oxburgh Estate is managed.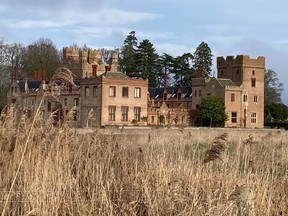 Reviews and recommendations are unbiased and products are independently selected. Postmedia may earn an affiliate commission from purchases made through links on this page.
Article content
For the past many years, the UBC School of Architecture and Landscape Architecture (SALA), the B.C. Society of Landscape Architects and other generous sponsors have invited prominent landscape professionals to present seminars giving new insight in the field of design or to share background on the historical preservation of iconic gardens.
This years' guest lecturer was Dea Fischer, who is the current horticultural adviser and former senior gardener for the British National Trust's property the Oxburgh Estate in Norfolk, England.
Article content
Fischer's presentation focused on how our current climate changes have modified the ways in which the maintenance of the 15th-century Oxburgh estate is managed. Of the estate's 4,000 acres, about 200 acres are now cared for by minimal staff and volunteers.
She pointed out that, while overall average rainfall and temperatures haven't changed significantly, the extremes within these parameters have been concerning. During the summer, they now experience far longer periods of drought and previously unheard-of temperatures in the 37 to 40 C range. In winter, they have been subjected to new record-setting cold temperatures down to -20 C.

While most gardens would simply change planting schemes to accommodate these new realities, the National Trust Heritage Gardens have a strict mandate. Oxburgh is essentially a living museum, welcoming over 100,000 visitors each year, and they must maintain their existing plants or varieties extremely close to them.
When asked about the relevance of keeping these historical plantings in place despite the great many challenges they face due to current weather patterns, Fischer responded: "We're preserving history, and the Oxburgh Estate is unique in England in many ways and have the only French style parterre in the country."
Article content
Fischer went on to say how important it was to use the centuries-old garden and the balance of the estate as a teaching venue.
"We can learn so much from the past, and we have to give a great deal of credit to the 15th century garden designers and gardeners who also faced weather challenges. With their historical records we could learn from the changes they made hundreds of years ago."
Climate resilience in horticulture is the focus of Fisher's work on the Estate as well as in her teaching and lecturing. She's a great believer in creating optimal conditions for plants to survive and then allowing them to adapt in a world of more extreme conditions.
To that end, she tackled some of the major soil issues with the parterre. Her philosophy is first to observe and learn, then to select plants that will survive and thrive in challenging water situations and, finally, to match the plants to their specific soil type.
She discovered that one end of the parterre had wet soil while the other end was exceptionally dry. By adding mulch and nutritional organic matter she was able to even out the soil consistency and create a growing area where the plants had optimum opportunity to thrive. To cut down on the tremendous maintenance costs of the parterre while staying within the boundaries of the National Trust restrictions, she was able to add perennials in place of annuals, thus saving significantly on costs and labour.
Article content

Lawns also proved to be high maintenance items in terms of labour and cost, so she reduced these areas, keeping to key locations such as around the crenellated manor, the parterre and other highly visible features. In doing this, she allowed former lawn expanses to become re-wilded, with wide mowed pathways allowing visitors to walk all through the grounds. Not only did this create some of the most loved areas, from their visitors' perspectives, but it also proved to be a wonderful habitat area for wildlife. Beneficial insects and pollinators thrived, and numbers of birds, hedgehogs and badgers all increased.
Oxburgh Estate also maintains food gardens, some dating to the 1830s, and orchards, which were revitalized by organic soil improvement.
At the end of Fisher's presentation, a gentleman asked a philosophical question about watering and irrigation. She responded by saying that every plant set out on the Estate must be self-sustaining as much as possible. With proper soil preparation and enough water to get them established she then took the "tough love" approach. She felt that plants should be able to push their roots deeper to find their moisture. That said, to accommodate extended drought periods, they have built underground tanks to collect rainwater, and when re-roofing the historical building, added more eavestroughs to collect even more water in the late fall and winter seasons. This is making them far more self-sufficient when water supplies are limited but still critical to maintain this huge Estate and gardens. Oxburgh currently attracts a great many visitors, but it must be safeguarded for future generations as well.
Article content
Fischer is passionate about the value of plants and gardens and their benefits to our health and well-being. In a changing environment that is challenging all fields of horticulture she is brilliant in building resilience into the gardens in so many ways. In all her work she is also adapting more native plantings and expanding wildlife habitats.
Fischer loves teaching horticultural students and gardening groups the basics of our new responsibilities in our gardening activities. It's up to all of us to be more environmentally accountable as we garden, and to become leaders in protecting our planet.
For upcoming lectures and more information visit: sala.ubc.ca/events.
Related Stories
Brian Minter: Adapting to cooler season means shifting to colourful plants indoors

Brian Minter: Orchardists face many challenges in promoting apple variety
---
Bookmark our website and support our journalism: Don't miss the news you need to know — add VancouverSun.com and TheProvince.com to your bookmarks and sign up for our newsletters here.
You can also support our journalism by becoming a digital subscriber: For just $14 a month, you can get unlimited, ad-lite access to The Vancouver Sun, The Province, National Post and 13 other Canadian news sites. Support us by subscribing today: The Vancouver Sun | The Province.