Jury Commentary
Named Award citation:
"This is a beautiful house, carefully sited amongst established pōhutukawa, and approachable from all sides; a house in the round. There is a striking contrast between the openness and operability of the living zones of the house, and the warmth and enclosure of the bedroom wing, which is enhanced by the spatial choices and material selections in each area. Although this is a large house in totality, the relatively modest scale of the rooms and courtyard spaces ensures a feeling of domesticity and easy inhabitation. This is a house where every aspect, at every scale, is considered in minute detail, including the curved belly ceiling in the living spaces, the rich timbered interior of the bedroom wing, and the operable exterior cabinetry which hides a barbecue and a firewood pile. The architects clearly have a strong affinity for materials, how they go together, and how things work and — perhaps most importantly — what that feels like for the people who occupy those spaces."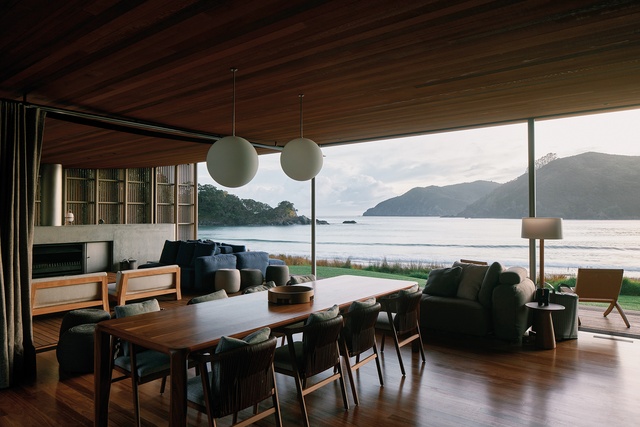 Housing Award citation:
"The jury was impressed by this beautiful, carefully detailed home, which has clearly been designed with consideration of how it is occupied throughout different seasons and times of the day. The operability of the house allows for sun and wind to be modified in the living spaces. Internal courtyards provide a strong connection to the landscape, while maintaining privacy for those in residence. Highly crafted joinery is seamlessly integrated into the building and other materials selected provide a tactile reminder that this is a beach house, with local stone used for floors and robust timbers throughout. Small moments like foot-washing basins located around the exterior hint at a thoughtful, well-used and practical family home."
Project team:
Lance Herbst, Nicola Herbst, Sianne Smith.
herbstarchitects.co.nz