The Naomi Milgrom Foundation has opened the 10th MPavilion structure in Melbourne's Queen Victoria Gardens, designed by Japanese architect and 1995 Pritzker Prize laureate Tadao Ando, and executive architect Sean Godsell.
The MPavilion is Ando's first project in Australia and features his signature geometric form and use of concrete.
The installation comprises two right-angled concrete walls, offset from each other to form a square with two entrances.
A central circular concrete column supports 14.4-metre span aluminium-clad parasol. A concrete bench along the southern wall provides seating, while a shallow pool at the northern half of the room creates a reflective water feature. Local blue stone paving is used on floor of the pavilion.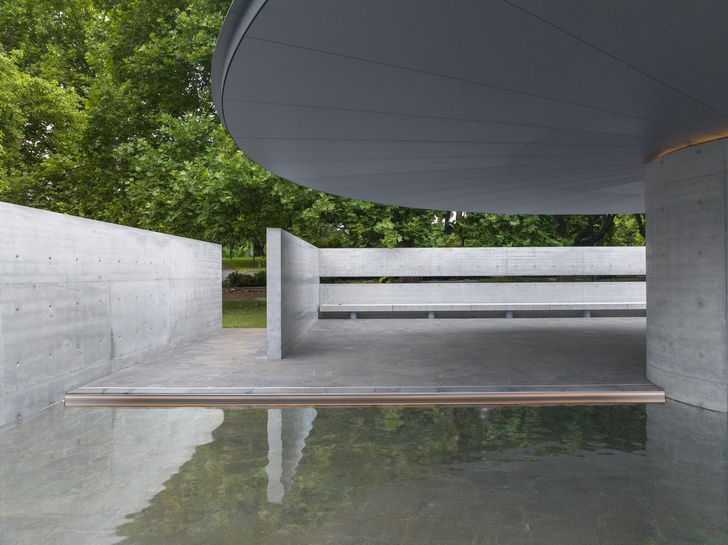 The pavilion is oriented on the axis of the pedestrian crossing adjacent to Queen Victoria Gardens. Ando creates an orchestrated, sequenced journey from the edge of the gardens to the wall of the pavilion where the entrance is then revealed to the right.
The interior of the pavilion is reminiscent of a traditional Japanese walled garden. Two open slits in the north and south walls, spanning 17 metres and self-supporting, offer glimpses of the gardens beyond.
The pavilion also subtly draws the surrounding gardens in with a hint of overhanging branches of a nearby plain tree.
In a statement provided to Sean Godsell, Tadao Ando said, "Here in Melbourne I imagined an architecture that could inspire people realize the wonder of nature surrounding it – a pavilion where the sky, water and people become one and dialogue is fostered beyond the boundary of the pavilion and into the garden. I hope the people of Melbourne and throughout Australia will further contemplate the nature of architecture culture from the experience here."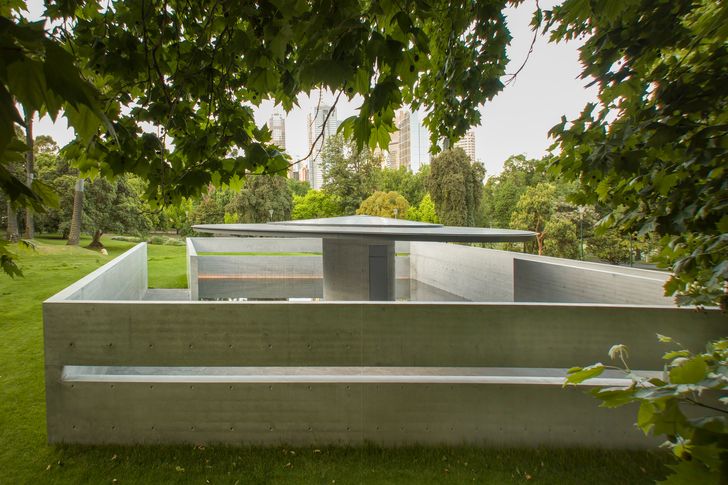 Naomi Milgrom, who commissions the MPavilion annually, said, "Tadao Ando has designed a new, iconic destination in Melbourne, one that will serve as both a contemplative spot, a temporary refuge from the bustle of the city, and as a dynamic site for creative discovery and vigorous discussion for those attending our public program."
As with all the past MPavilion structure, Ando's pavilion is designed to be disassembled at the end of its life in the gardens and relocated to a permanent home. The aluminium-clad parasol is pre-made in a factory, which can be disassembled and reassembled easily elsewhere. The bluestone paving is similar to that of the Bijoy Jain-designed pavilion (2016) which was relocated to Melbourne Zoo.
Godsell said the concrete walls, which is made using a green concrete mix, can be demolished and reused as aggregate, to be recast in a future location.
MPavilion will open on 16 November, kicking off a five-month-long program of more than 150 events.