This project is perfect for adding a personal touch to your home's curb appeal. A custom address house number sign is a perfect addition to your porch or garage. Made with a Cricut vinyl cutter, it is a fun project that is easy but turns out beautiful.
Jump to:
House Number Sign
This eye-catching sign not only showcases your house numbers but also offers a warm invitation to all who pass by. Get ready to unleash your creativity as I guide you in a step-by-step tutorial. This is a perfect way to update and add some style to your home.
If you like this idea, make sure you check out all of these projects to display house numbers. There are tons of ways you can add curb appeal with a custom sign.
Supplies Needed
Below are the items needed to make this beautiful house number sign. Some of these may already be on hand, but you will need to purchase new items.
How to Make an Address Sign with a Cricut
Begin by removing the glass from the picture frame. If the background isn't solid, cover it with white vinyl or a waterproof white back and set it aside.
Similar Project:  9 Smart Ways to Use Eggshells in Your Garden
Then, you will follow the Cricut machine process to cut the house number using your chosen font.
Weed the vinyl and then press on the transfer paper.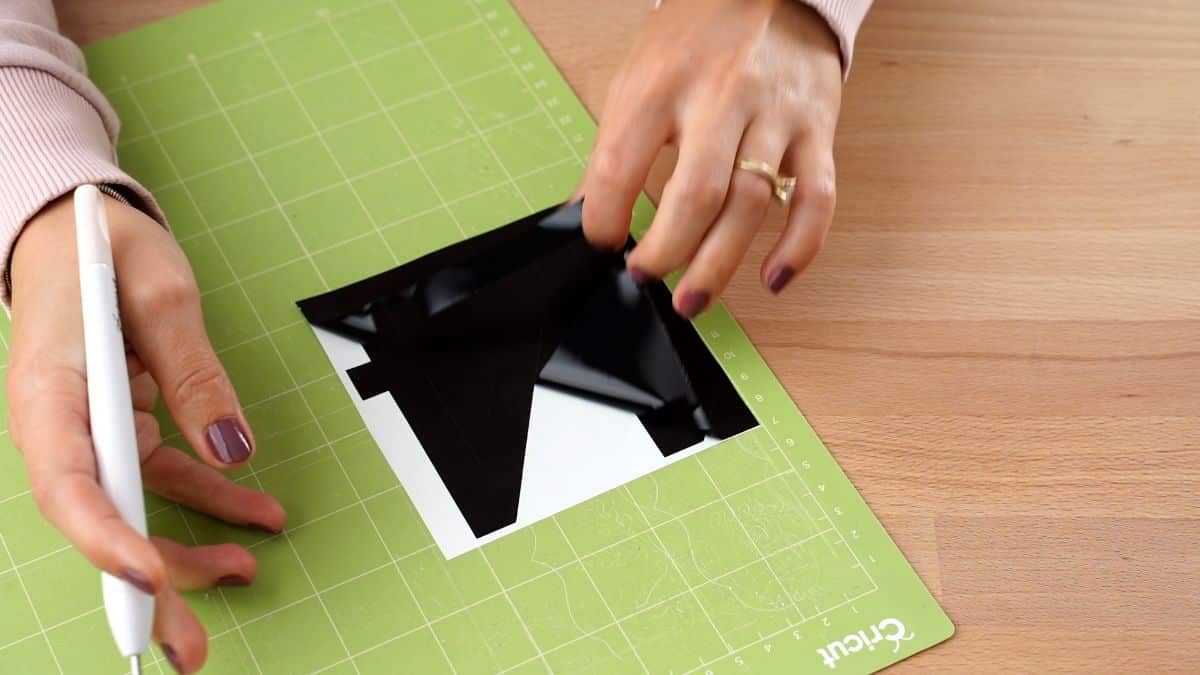 Place the house number onto the background in the picture frame and cover it with glass or sealant if desired.
Now, make a "welcome" message with your Cricut. Weed it and use transfer paper to move it from the mat onto the front of the wooden basket.
Once the message has been added to the basket, glue the basket to the picture frame using hot glue or a strong glue.
Add decorative fake greens or real plants to the basket.
Hang on the side of your home, on the porch, or even sit on the porch beside the door.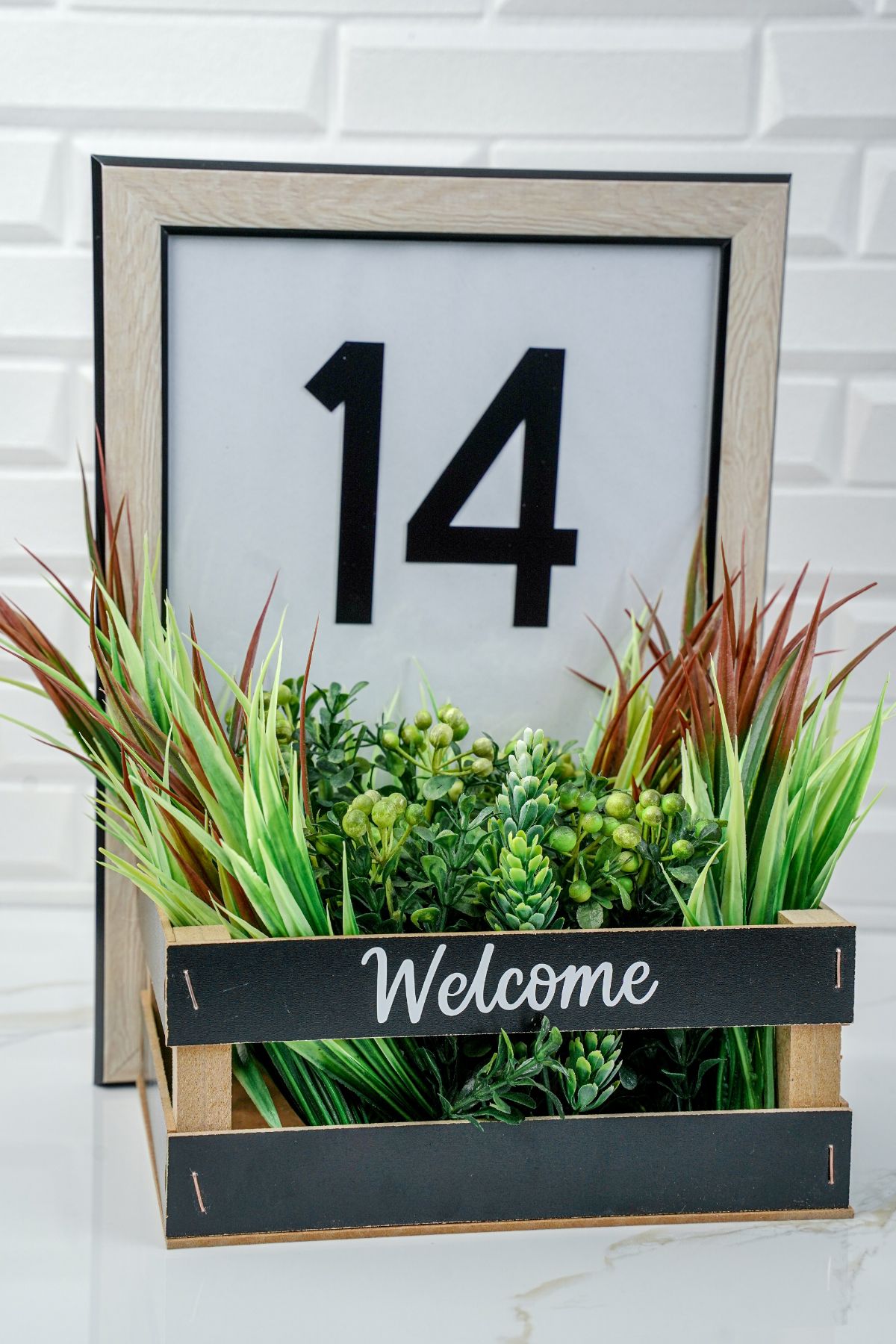 What Type of Fonts Work Best for a House Number Sign?
When choosing fonts for your house number sign, you want to make sure that they are clear and easy to see. Below are some things to consider when choosing a font with your Cricut vinyl cutter in Design Space.
Legibility: Opt for clean, easy-to-read fonts that can be deciphered from a distance. Do not use a script or bubbly font as they may not be clear in what number is being shown, i.e., 7 vs 1
Style: Match the font style to your home's aesthetic, whether it's modern, traditional, or rustic. A log cabin would look best with a simple rustic font, while a modern home may look best with a sharp straight-line styled font.
Thickness: Many fonts are nice and clean, but are thin lines. When choosing a font, stick to ones that are wider or even outlines that will provide a very clear definition of the background.
How Large Should the Address Numbers Be?
The ideal size for address numbers depends on factors like the sign's location and viewing distance. In the United States, with the 911 system, you may also have recommendations from local or state governments.
Similar Project:  Adorable Painted Mushroom Planter Garden Decoration
Typically, you will find them no smaller than 4″ tall. The average height is 6″ and the width will depend upon the font.
Make sure whatever font you choose, the size will give you the following:
Visibility: Make sure the numbers are large enough to be seen clearly from the street.
Proportions: Balance the size of the numbers with the overall dimensions of the sign.
Regulations: Check local regulations or homeowner association guidelines, if applicable, for size requirements.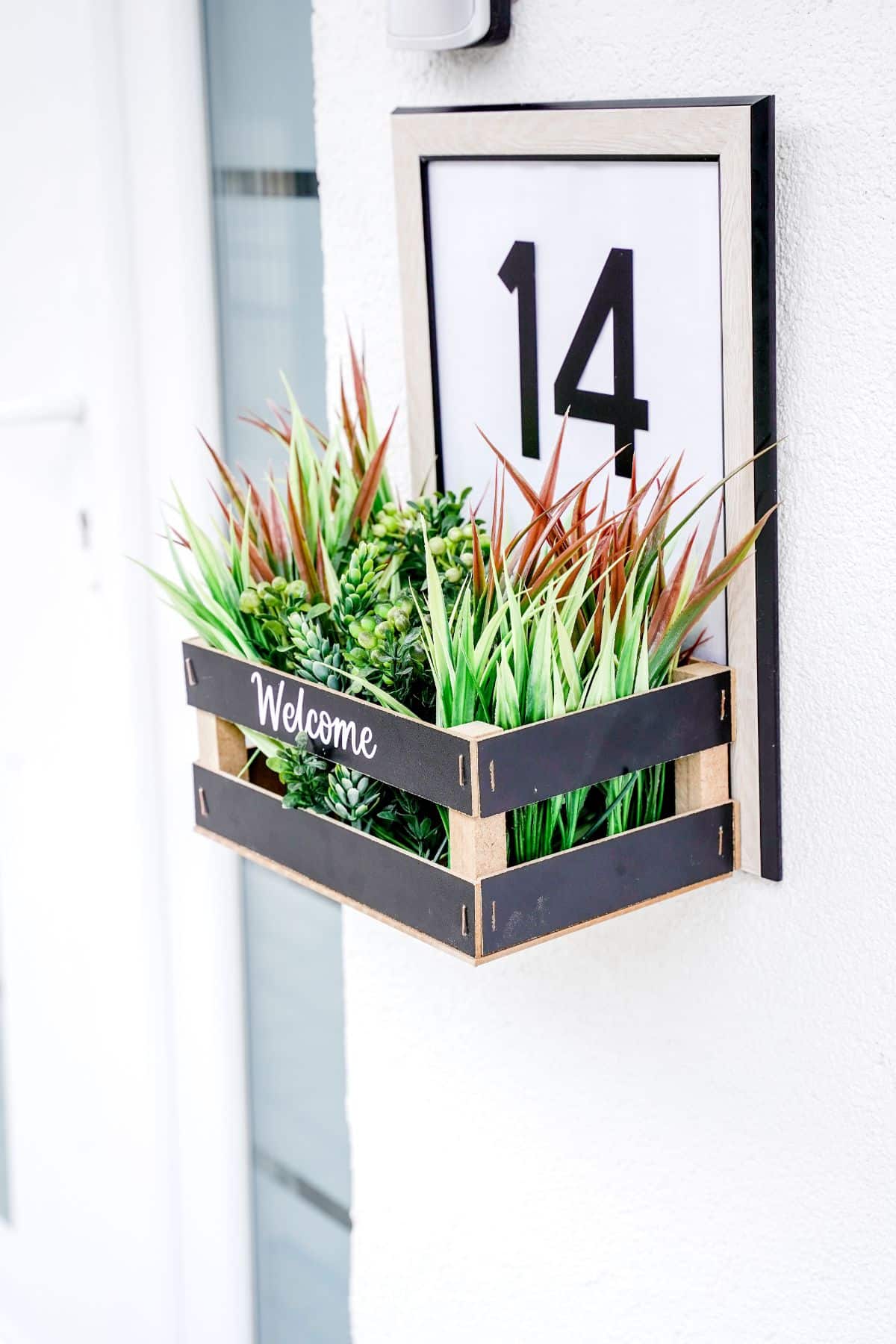 Tips for Finishing the Sign for a Polished Look
To achieve a professional finish on your house number sign, consider the ideas below to give it a clean look.
Sanding: Sand the sign's surface for a smooth base before applying vinyl.
Transfer Tape: Use transfer tape to position and transfer the vinyl numbers accurately.
Sealing: Apply a clear sealant to protect the sign from weather elements and maintain longevity.
Mounting: Choose a suitable mounting method that complements your sign's design and location.
Additionally, if this will be mounted in the open and fully exposed to the elements, you may want to add a sealant to keep the sign for longer.
Ways to Personalize Your House Number Sign
Add a personal touch to your house number sign with some of the creative ideas below.
Family Name: Incorporate your family name or initial alongside the address numbers.
Cricut Flowers: Enhance the sign with elegant Cricut flowers for a charming touch.
House Shape: Create a sign in the shape of your house or state to add uniqueness.
Custom Colors: Choose colors that resonate with your style and complement your home's exterior.
More Cricut Crafts
Below are some more fun ideas for using your Cricut machine to create something unique. These can be used as gifts, added to your own home, or sold at craft fairs. Pick your favorites and bookmark them to make them soon!
Yield: 1
Similar Project:  26 DIY Swings That Turn Your Backyard Into A Playground
Craft a personalized Cricut address house number sign – Elevate your home's curb appeal with this easy project
Prep Time
15 minutes
Active Time
30 minutes
Total Time
45 minutes
Difficulty
Easy
Estimated Cost
$10
Notes
Measure the width of the frame before purchasing your basket so it fits inside the frame or on top of the frame with little overlap.
Similar Project:  20 Creative Ways to Organize and Decorate with Hangers
Recommended Products
As an Amazon Associate and member of other affiliate programs, I earn from qualifying purchases.