The United Flower Growers has helped to elevate floriculture into B.C.'s second largest agricultural economic driver.
Reviews and recommendations are unbiased and products are independently selected. Postmedia may earn an affiliate commission from purchases made through links on this page.
Article content
Think back 60 years ago. What were you doing in 1963? That's when seven British Columbian floral growers decided to work together selling their cut flowers and potted plants from one central location in order to facilitate a better buying process for florists, garden store owners, floral wholesalers and grocery stores.
The concept was to provide a single venue for diverse floral products that buyers could pick up in the early morning and have on their store shelves, ready for consumers, that same day.
Article content
United Flower Growers Co-op (UFG) celebrates its Diamond 60th Anniversary this September, and it has helped elevate floriculture into B.C.'s second largest agricultural economic driver, just behind the dairy industry, but ahead of the vast poultry production operations.
In the early days, UFG operated hand-turned auction clocks, with folks shouting out their bids on flowers and plants. Initially they were located on East Georgia in the Vancouver wholesale produce district, but to meet growing demand, UFG made the move to their current location on Marine Way, just east of Boundary Road. It's a central location, close to the Vancouver airport, with relatively easy access for all the Lower Mainland and Fraser Valley growers and buyers. It's also reasonably close to the U.S. border crossing, where so much of today's product is exported.
The UFG is a not-for-profit co-operative enterprise, where its grower shareholders receive dividends from any revenue. Today there are over 80 growers and associate members supplying the auction with potted plants and cut flowers year-round, supplemented with floral supplies and imported product to provide buyers with a very wide range of merchandise 12 months a year.
Article content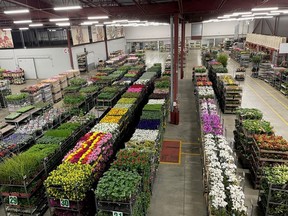 Modelled after the Dutch-style flower auctions in the Netherlands, where simultaneous auction clocks start high and drop in price, our local UFG buyers determine how much they're willing to pay and stop the clocks accordingly. All four clocks move very quickly, and buyers have to make instantaneous decisions. In peak seasons auctions can take over three hours and are held three to four times per week, starting at 6 a.m.
I've been to the Dutch auction in Aalsmeer where pro buyers can burn out because of the intensity of the process, with so much at stake with each transaction. It's not quite as intense here, but all buyers must be very alert.
I was able to speak with Michel Benoit, the CEO of UFG, who was most insightful about the auction today, and its future.
Moving beyond the traditional model of a gallery of seats, each equipped with connected keyboards, where everyone has an equal opportunity to buy any product on offer, a few years ago UFG integrated remote buying as well, where buyers could log in, connect with UFG, virtually inspect the product and purchase online. This was just before COVID-19 took its toll on any people gathering, and although many buyers were reluctant to change because they could no longer examine all the products early in the morning, be right there to buy and load their purchases to take back to their stores, they soon embraced the new procedures.
Article content
Benoit applauded his team, and former CEO Bob Pringle, for their innovative technological adaptation, which was groundbreaking, and among the first globally.
Buyers could theoretically purchase from anywhere in the world, but it was especially important to out-of-town buyers on Vancouver Island, in the Interior and up north, who often had to sleep in their vehicles overnight because of ferry schedules and long-distance travel. It has also proven to be an enormous time-saver for buyers as they can purchase online from home and pick their product up later or even have someone else pick up for them.
Another innovation UFG has pioneered is virtual buying of floral products. Everything being sold has to have a current image so buyers can see exactly what they're purchasing and the same can be done with product growing in greenhouse or in the fields. At the end of the current day's live auction, buyers can pre-purchase flowers and plants that will be ready for them to pick up at the next day's live auction.
For example, after the end of Thursday's live auction, you could pre-purchase product that would be ready for you to pick up at Monday's auction. These virtual transactions save so much time. The growers can simply drop products at one location and transportation costs are reduced for the purchasers, who only have one stop to make.
Article content
Remote buying has also freed up a great deal of space in their building, allowing for rentals, making the facility much more efficient.
Benoit has been conducting focus groups with both customers and growers to determine new floral trends and new ideas, and to introduce new floral products.
Local outdoor summer growing has increased phenomenally over the past few years, with a great diversity of product from unique flowers like amaranthus and the golden foliage of smoke trees like cotinus Golden Spirit, to unique perennial hop vines now available. Berry stems like deciduous holly have become more popular, and an amazing assortment of cut Christmas greens has also been an area of increased production.
Their ever-increasing diversity of quality floral products has expanded their market well across Canada and the U.S. On a recent trip to a trade show in Oregon, Benoit told me he was very pleased with the recognition of B.C. floral products across the Pacific Northwest. He was quite taken by surprise when he visited one of their chain store clients in the U.S. When he identified himself to the cashier, she came from behind the counter and hugged him, thanking him for the beautiful Canadian flowers they sell in their store.
Article content
Congratulations to the UFG as they celebrate their diamond 60th anniversary. They all have much to be proud of. Through the hard work and vision of local growers, and their dedication to innovation and technology, they have been a huge factor in B.C.'s economy, and helped bring plants and flowers into the homes of an ever-increasing number of folks from Western Canada to Manitoba and the U.S.
Brian Minter: Hitting refresh for fall and winter

Brian Minter: Tips to select shade trees for high-density spaces
---
Bookmark our website and support our journalism: Don't miss the news you need to know — add VancouverSun.com and TheProvince.com to your bookmarks and sign up for our newsletters here.
You can also support our journalism by becoming a digital subscriber: For just $14 a month, you can get unlimited, ad-lite get unlimited, ad-lite access to The Vancouver Sun, The Province, National Post and 13 other Canadian news sites. Support us by subscribing today: The Vancouver Sun | The Province.