"Boola" is the Whadjuk Noongar word for "plenty/lots/many," while "katitjin" (sometimes transcribed "kaadatjin" or "kaatajin") means "learn/think/teach/listen."1 This naming protocol supports the slow maturation of middle Australia's awareness of its precolonial past, joining WA Museum Boola Bardip/Many Stories (Hassell and OMA), Walyalup Civic Centre (Kerry Hill Architects) and other recent major projects in Perth. The move to codesigned, Indigenous-led projects that emphasize empowerment and Country is evolving across the landmass: fully established in some situations, emergent in others.
In keeping with the theme of this issue, the following review takes a big-picture approach to Boola Katitjin and considers its place within the extant masterplan of Murdoch University. Boola Katitjin is lead architect Lyons' fourth major commission completed in Perth, following Northbridge Central TAFE (2010), Yagan Square (2018, with Iredale Pedersen Hook and Aspect Studios) and Curtin University's Midland Campus (2019, with Silver Thomas Hanley). Situating this fourth project requires a short introduction to Murdoch University. Located in the southern suburb of Murdoch, both the university and suburb are named after Walter Murdoch, a former chancellor and vice-chancellor of the University of Western Australia. Colloquially, and somewhat ironically, Murdoch University is known as the "bush campus." From the late 1920s, the original vegetation was cleared and replaced by a substantial pine plantation that became part of a state government program in the Great Depression, keeping unemployed men busy to curtail civic disturbance.2 For whatever reason, a stand of mature tuart and marri trees was retained on a hill at the plantation's core, which now forms Bush Court – the centre of the Murdoch campus. The campus was masterplanned by Gus Ferguson and Gordon Stephenson with the doyen of Western Australian landscape architecture, Marion Blackwell. Many of the buildings were designed by Ferguson over the course of his extensive career. The campus has an east–west grain generated by linear buildings that create sequences of enclosed courtyards in some areas, and rambling, extensive, revegetated bush landscapes with trees and understorey in others. The university has widely recognized roots in conservation and the environmental sciences, and it also has a substantial commitment to endemic and broadly native landscape reintroduction. Subsequently, the birdlife on campus is prolific.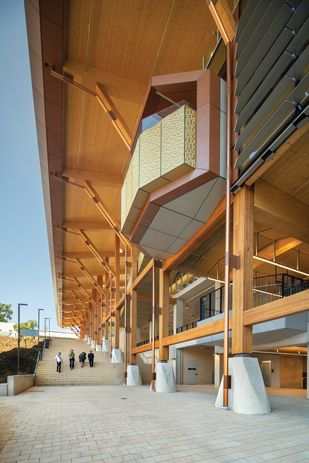 Ferguson's unpainted concrete block buildings are readily identifiable as direct, gabled buildings with pronounced eaves. On foot, people are funnelled through béton brut colonnades that shift the scale, forming courtyards and agora, echoing the trabeated, humane directness of Gunnar Asplund's later work. Shaded courts mix exotic deciduous trees with subtropical understoreys. What must have felt severe in the early days of campus life now feels naturalized, episodic and gentle. Internally, most buildings are rather uneventful.
Physically, Boola Katitjin is a colossus. Operating at 90 degrees to the campus grain, it increases the campus's existing teaching space by 60 percent. Striking a line down the hill from Bush Court's south-east corner, it serves future campus expansion and operates at a similar scale to lauded projects like Vin Davies' Building 201 at Curtin University and Peter Celsing's Kulturhuset in Stockholm. All three are dense, lively and relentlessly linear social condensers. Unlike the earlier buildings, Boola Katitjin sits adrift from its established campus pattern and is principally perceived via its ends (rather than its front), which has the effect of amplifying an assertive but distanced site position. This conceals much of the building's inner life from view and exposes its long flanks to the brutal, low sunlight that dominates Perth's mornings and evenings from November to February.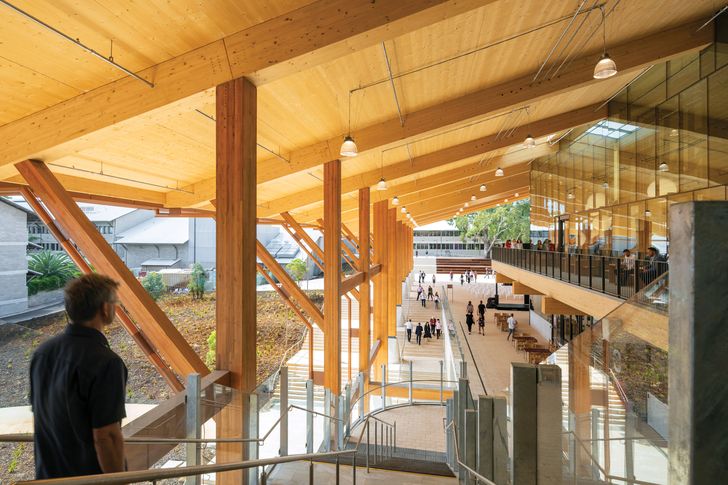 Celsing offers the city as an auditorium and the building as a stage, promoting contact between people, arts disciplines and urban spectacles. Davies' project, like Lyons', is a campus building in the round, but it conforms to the campus structure by offering one end to Curtin's pedestrian spine. Building 201 is the most internalized of the three, concealing its top-lit street until the last. Measuring 110 metres long and four storeys high, the building is made dynamic by crisscrossed walkways, balconies, platforms and stairs. While notoriously confusing to navigate for infrequent visitors, Building 201 offers regular users an abundance of chance encounters, often of social or educational value. Where Celsing amplifies one's contact with city action, Davies' inner street is charged by room timetabling, which causes it to be filled and emptied on the hour. Building 201's internal street also features natural stack ventilation, which was once operated to excellent effect by a building caretaker – an outmoded idea that warrants re-examination.
Boola Katitjin offers dense socialization and chance encounters through astutely selected furnishings and pleasurably scaled "rooms" that are loosely defined by massive, unitized timber ceilings. The promenade is more static here, with long, occupiable hallways broken by transecting "portal spaces." Floor by floor, these central halls are internally linked by lifts and externally linked by off-axis escalators and fire stairs, simultaneously breaking the "line as movement" tendencies of the building's spatial grammar and re-establishing one's orientation and position.3 Each central hallway provides informal "work and wait" spaces for double-loaded teaching rooms of varied sizes and configurations. Walking these heavily occupied halls, teaching spaces frame vistas left and right – but the intended views are often obscured by half-drawn blinds to manage to Perth's incessant glare. Despite this criticism, the teaching spaces warrant detailed examination for their arrangement, scale and appointment, all of which support contemporary education methods. Sam Teague, a vibrant and respected lecturer, commented that for the first time in his two-decade career, the spaces allow him to teach to his fullest potential, "taking my centralized power away and distributing the act and responsibility of teaching and learning throughout the room." He concluded by stating that he gets to play at the "Madison Square Garden of education" on a daily basis.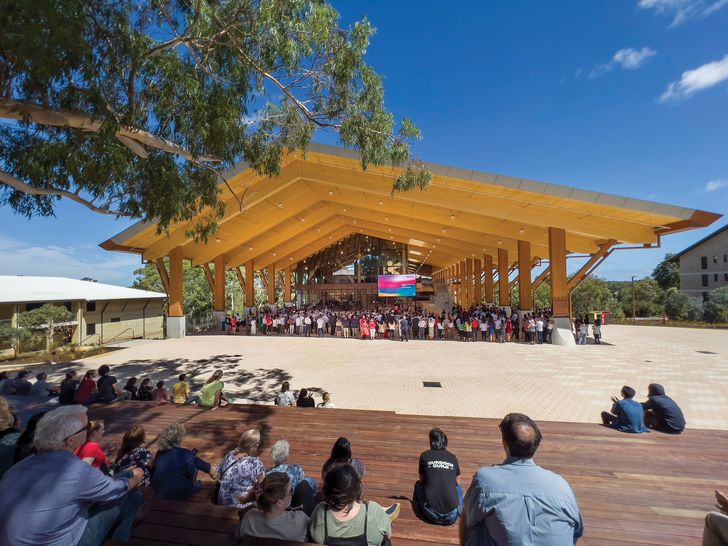 At the uppermost floor, the hallway is single-loaded and protected by the gargantuan western eave (an exaggeration of Ferguson's manner), and it extends upwards to the underside of the cross-laminated timber ceiling. This is a glorious space to study, wait or walk. It also serves as a reminder of how canted, illuminated surfaces can reduce the incidence of glare. At the southern end, informal staff workspaces look southwards over bushland and feel genuinely metropolitan in configuration and quality.
In typical Lyons fashion, local collaborations were established. Officer Woods and The Fulcrum Agency were invited to execute fitouts within the extreme northern and southern ground-floor ends. One is an articulate and airy student services hub; the other is a cafe and industry engagement space that extends the timber sensibilities of the whole. Lyons' informal yet longstanding approach to supporting smaller practices – like NMBW Architecture Studio, MvS Architects, Harrison and White and Maddison Architects (RMIT's New Academic Street, 2017) and M3 Architecture (Andrew N. Liveris Building, 2021) – is to be acknowledged for its significance as a cultural program.
The Fulcrum Agency was commissioned to coordinate a substantial digital engagement and public art program where immersive artworks offer encounters throughout the building, forming implied connections to adjacent wetlands and notions of Country. Officer Woods extended its remit with the addition of a public stair and a soaring bay window – one reducing, the other replacing gross floor area. This push-and-pull into and out of the regular structural frame is a strategy repeated throughout as an act of carbon-conscious narration, alleviating potential anxieties that the building could have become eco-reductionist. As globalization continues its march, this move from the complicity of the 1960s, to a postmodernist counterculture centred on general roots and specific circumstance, towards a slow evolution (or return) to buildings as holders of shared cultural knowledge (be that contested or not) may be a legitimate form of professional resistance that moves us toward knowing where we are.