Now that Matt and I are using our new master bathroom, that means that the main use of the hallway bathroom can now be as a guest bathroom. And since I won't be in there every day, using that as my main bathroom to get ready for each day, that means that I can finally make some changes that I've been thinking about for a while now.
When I did the original remodel on this bathroom in 2015, I painted the vanity teal. Of course. Teal is my go-to color.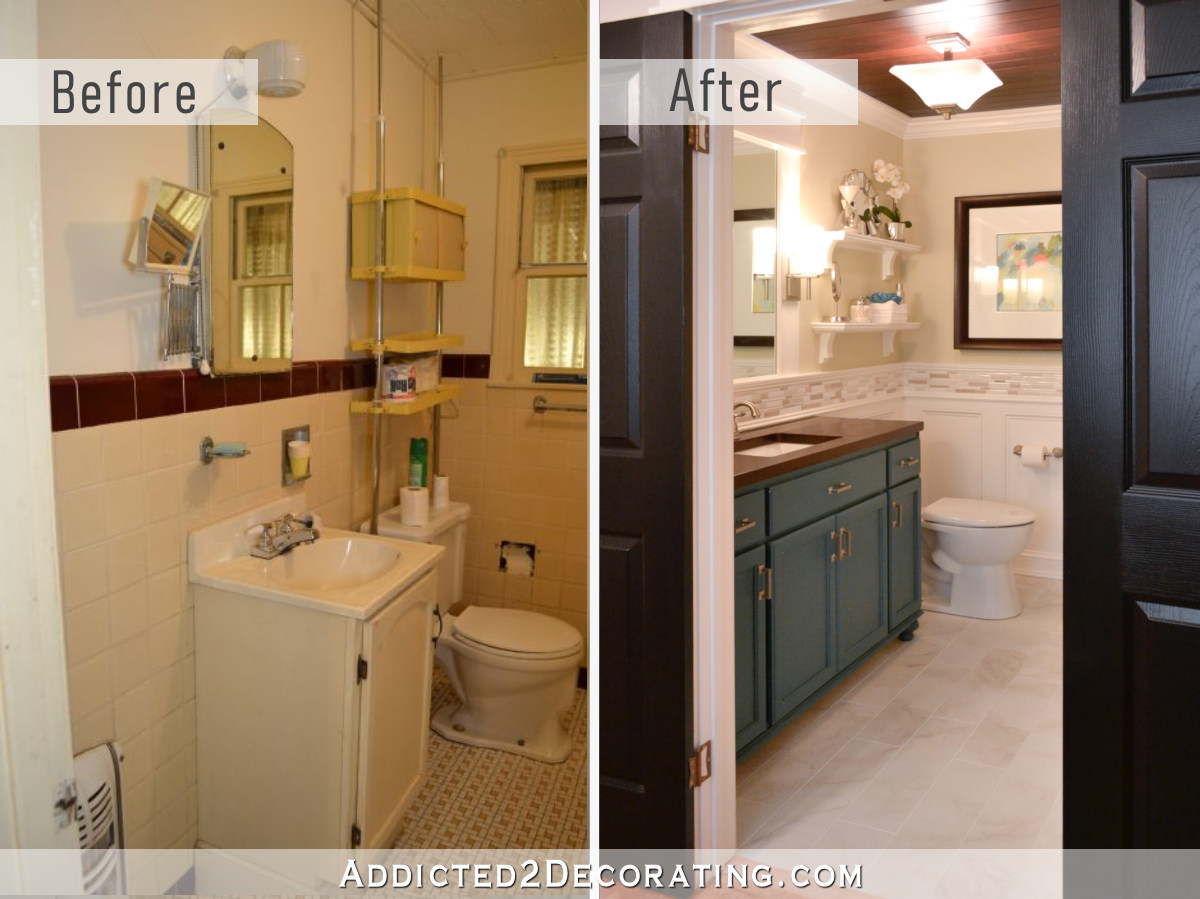 Then there was a very short stint where the vanity was gray (bleh), and then in 2021, I did a more extensive makeover on the bathroom, and that's when I painted the vanity this coral-orange color.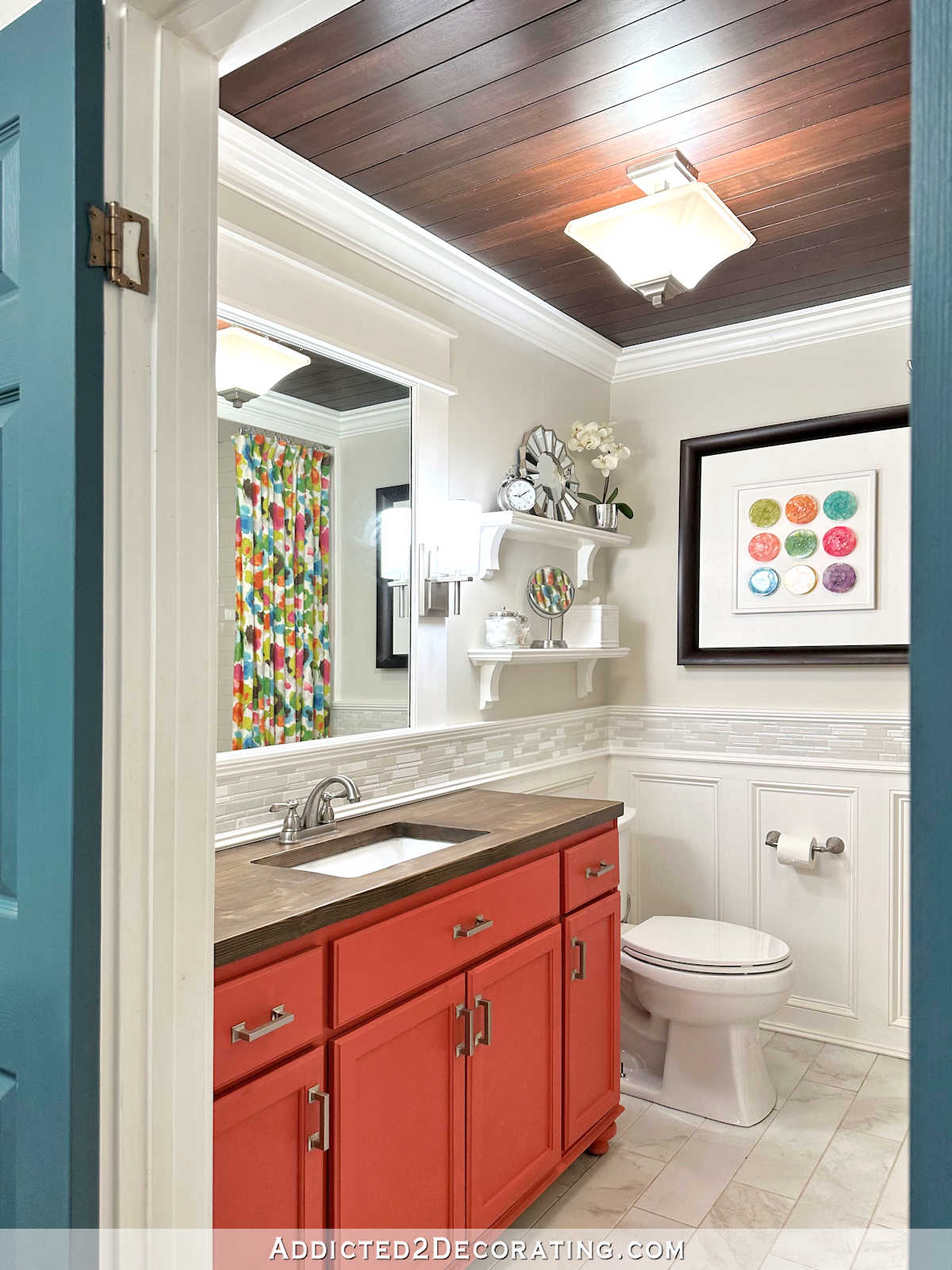 Even though I've been at this for just over nine years now (we bought the house in August 2013), I find that I'm still trying to "discover" my style. My taste is always changing, although it's generally in subtle ways. And I'm continually refining my style.
I mean, how many tries did it take for me to get my living room right? Five? And it wasn't until I stopped trying to force my strict use of cool colors (mainly teals and greens) and embraced my love of warm colors (mainly anything in the pink category), that I finally got it right.
With this bathroom, I was determined to use that fabric for the shower curtain. I had purchased it for another project that didn't materialize, and I didn't want to waste money, so I used it in here. I do like it, but over time, I've kind of grown tired of the colors, which appear a bit more "primary" than what I've grown to love.
And then I chose a color out of that fabric to put on the vanity. And while I love pretty much any version of coral there is, I've learned that for my own home, I prefer my corals to lean more towards the pink side than the orange side.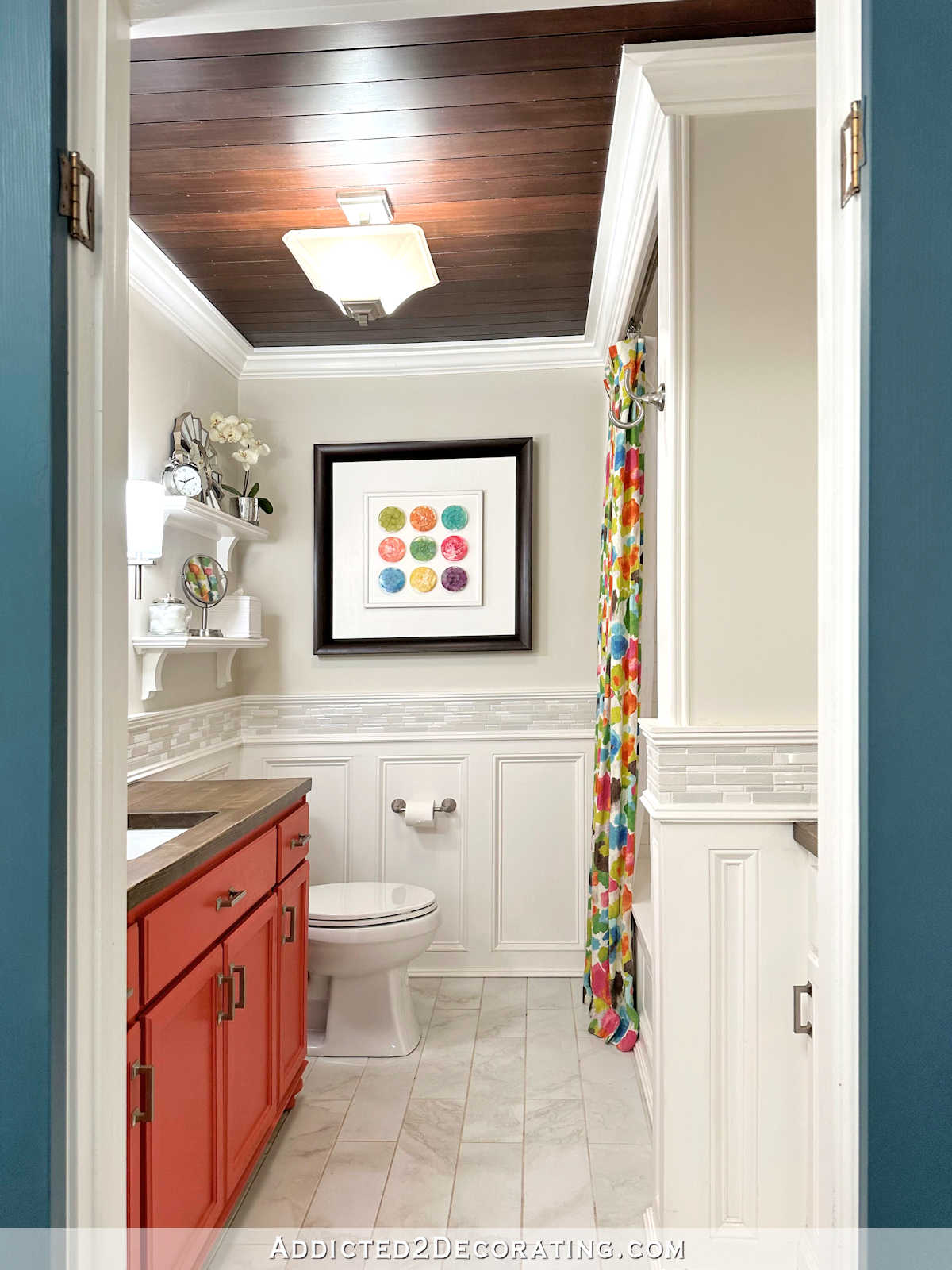 So the orange of the vanity and the brightness of the shower curtain fabric have been on my "I'd like to change that" radar for a while now.
And then there are all of the metal fixtures in the room — ceiling light, sconces, drawer and door pulls, faucet, etc. This is the only room in the whole house where I used silver (brushed nickel), and I'm just not really a silver kind of person. I much prefer the warmth of gold and brass, especially in the darker, aged finishes. (I don't really like the bright, shiny, garish gold and brass finishes.) So I'd like to swap those out, too.
I don't know exactly when I'll tackle these changes. After all, my main priorities for now are to (1) finish the home gym, and (2) get started on my studio ASAP. But the projects in this bathroom aren't too big, so I can add them to my "do these if I need a break on the big projects" list of things I'd like to get done.
What I don't want is to end up with a boring, neutral bathroom. That will never happen. 🙂 I still like colors, and this bathroom will still end up being colorful. But I'll just be a little more selective in the colors that I choose rather pulling a fabric out of my fabric stash to use as a jumping off point because I don't want to waste money and I feel obligated to use it somewhere, this time I'll actually start with something I've chosen specifically for this room.
Or maybe I'll decide to put the color and pattern on the walls this go 'round! Wallpaper, anyone? 😀 That could be a fun change.
Anyway, I did a quick search for fabric last night, but I didn't really find anything that caught my eye. Actually, what I'd really love to use is the fabric that I used on the pillows that are in the purple living room chairs.
That fabric is one of my absolute favorites ever. But I'm not sure how I feel about repeating a fabric that has already been used in another room, and I'm not willing to give up these pillows for the living room because they're too perfect for that room. That fabric is called Paint Palette in the color Punch by P. Kaufmann.
So finding a fabric (or wallpaper! 😀 ) will be my starting point, and I'm not really in a rush to find it. But I will be keeping my eyes peeled as I scroll Instagram and flip through magazines, because even if I can't get to all of the changes in the next few months, I'd at least love to spend a couple of hours and get that vanity repainted sooner than later.
EDIT: I actually have quite a bit of that P. Kaufmann fabric left over, so I got it out and draped it over the shower curtain rod. Just that little change goes a long way in this bathroom! I love this fabric so much! I'm still not sure what I think about repeating a fabric, though.
Addicted 2 Decorating is where I share my DIY and decorating journey as I remodel and decorate the 1948 fixer upper that my husband, Matt, and I bought in 2013. Matt has M.S. and is unable to do physical work, so I do the majority of the work on the house by myself. You can learn more about me here.
I hope you'll join me on my DIY and decorating journey! If you want to follow my projects and progress, you can subscribe below and have each new post delivered to your email inbox. That way you'll never miss a thing!