For more than ten years, Melbourne architect Peter Maddison has been the face of Grand Designs Australia, following the triumphs and tribulations of Australians building their own homes and giving us an unvarnished look at the process.
Ahead of Maddison's final season (the show will reportedly be moving from Foxtel to free-to-air, with a new host), we asked Maddison to reflect on the experience of hosting the show and consider what it has to say about Australian architecture.
ArchitectureAU: You've hosted Grand Designs Australia since its inception more than a decade ago. How does it feel now it's coming to end?
Peter Maddison: It feels like a milestone. I'm proud of the team who've worked to make what is a mountain of work. It's not just me, it's the whole team at Fremantle Media. Everyone's pretty chuffed. It's been popular for so long and we're pretty proud of all that.
AAU: You're an architect by training, with little experience in broadcasting before the show… What was it like stepping into that role all those years ago? How steep was the learning curve?
PM: My only experience performing was doing a student review at RMIT. And I auditioned in a singing role when I was in state school, I think it was first or second grade – I wasn't given the gig. So you could say I didn't have a lot of experience.
It was quite challenging – confronting really – in the early days. I didn't know what it was all about and the skills don't come naturally. It gets the adrenaline going – I reckon I've used up a couple lifetimes' worth of adrenaline doing the show.
I learnt to accept that I'm always going to be nervous and it's always going to be a challenge, but like most things, through experience it becomes easier. In the early days I had sweat patches everywhere, and these days I don't have the same affliction.
AAU: The British Grand Designs is so strongly associated with its host Kevin McCloud, did you feel the need to differentiate yourself from him, to establish a different approach or style?
PM: It's funny, when I was launched into this role, he came out [to Australia]. We had a launch event at Bennelong Point, opposite the Opera House. They had built two huge marquees, it was invitation-only and there was champagne and canapés, and I thought, "God, who is this guy? How I am I going to do what he does?" But I quickly worked out, he's just another guy with all the insecurities and foibles everyone's got.
I think I've just tried to be my own person from day one, really. I do hope that's evident.
I look at other successful performers, and they've all got their own personality traits and that's what makes them special. Look at Hughesy…Rove, Graham Kennedy, they were all larrikins who wanted to be themselves. So, I've tried to be true to myself.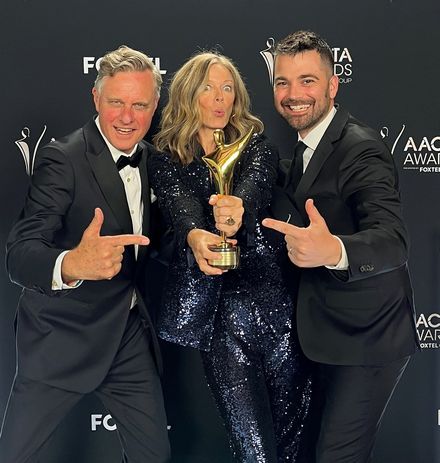 AAU: All of those presenters were also very consciously Australian. Is that something you've made a concerted effort to do with Grand Designs Australia – to celebrate Australian architecture in particular?
PM: Very much so. I've been practising architecture here with my own office for 35 years or thereabouts, and I have been totally absorbed – and still am – by the Australian condition, and what that means to architecture. To celebrate Australians doing their own thing has been my greatest joy. Going out to see people, trying to interpret the climate and the materials that are available locally, trying to respond to the land. I've met a lot of architects and homeowners who are trying to be inventive.
Some of the episodes we've done have been replications of Hamptons-style or Victorian-style buildings, and they've been the challenging ones for me. The most successful episodes were those that were more experimental and brave.
There's a lot more awareness around environmental issues and also a style of architecture that's a bit about the Australian character: rough around the edges, a bit irreverent, a bit raw, and also fun. I think there's a more evocative style, a mid-century sensibility about being vibrant – I think that's where we're going at the moment, moving away from a minimalist 80s and 90s stripped-out, rendered-over shiny style to something that's a lot more touchy-feely.
AAU: With the houses that you maybe weren't such a fan of – the Hamptons pastiches etc. – did you feel you had to hold your tongue a little bit?
PM: Very much. When you hear me talk about the view, you know there's not much else to talk about.
Look, at the end of the day, I do respect people who build their own home, even if it's not the style or approach that I agree with. It's very easy to be an arsehole and stab people in the back. I've always tried to be respectful, even if I don't agree with that particular building they're doing, because they're doing a very brave thing, sticking their hand up and going public; they don't get any money for it, it's just them celebrating what they're doing.
There's always joy, there's always something in every project that you can celebrate.
AAU: You've been posting about some of your favourite houses over the years on Instagram. What is it about these projects that stands out for you?
PM: Generally, there is an architect involved, so there's some intellectual rigour around the concept, and there's a more cohesive approach to the building.
There's inventiveness, and also a mid-century structural honesty and connection to landscape.
They're all over Australia – there's Queensland, New South Wales, Tassie.
And that's what's interesting about Australia. Because Australia is so big, a house in Mount Tamborine, Queensland, is going to be quite different to one in Bruny Island, Tassie.
I think, with all my favourites, it's not just the architecture, it's very much the way it sits in the landscape, the way it engages with it… and then there's a connection to memory, the homeowners and their history, which is another layer that bolsters its relevance.
AAU: I guess Grand Designs has always been about the people as much as it's about the architecture?
PM: Very much so. It's not about the architecture and it's not about the builder. It is all about the owners and their journey – that's the story. That's the glue that holds it together, and that's why it's successful. What we do is try and bring the owners into the show where they're engaged in the process, and the viewer starts to relate to the owners, and makes judgments about how they relate to them.
When I first started, I thought it was all about the architecture, and I kept saying to the producers, "Why are we focusing on every little move the owners make? Let's go out to the factories where things are being made," and they said, "Peter, you don't get it. The reason this show is successful is that people want to make judgments and relate to the owners."
AAU: Have you found you've forged lasting bonds with the homeowners?
If I look at my top ten list, I reckon I could call any one of the homeowners and they'd have a beer with me after work. They're all good friends. I spend days with these people. It's not like a dinner party, where you spend a few hours. I go back at least half a dozen times for a whole day, and then there's ongoing communication… so I'll probably spend, 60, 70 hours of these couples and get to know them very well.
AAU: And I guess that's such a pivotal moment in their lives as well. An emotional time sometimes.
I think so. They're always very nervous about how they're going to appear, but after it goes to air, they're always very happy, because we really try and paint them as heroes. But also, real people who make errors, like we all do, and have successes. I think that's the thing about this format: it's real, there's no product placement, there's no one putting words into their mouth.
I'm very lucky, I get to go along to these sites and speak my mind, and it's all off the cuff. The only script I learn is the opener and the closer, the rest of the episodes are all just as it comes, and I think that's what's fresh about it.
Peter Maddison's final season of Grand Designs Australia airs on Foxtel on 25 January 2023.