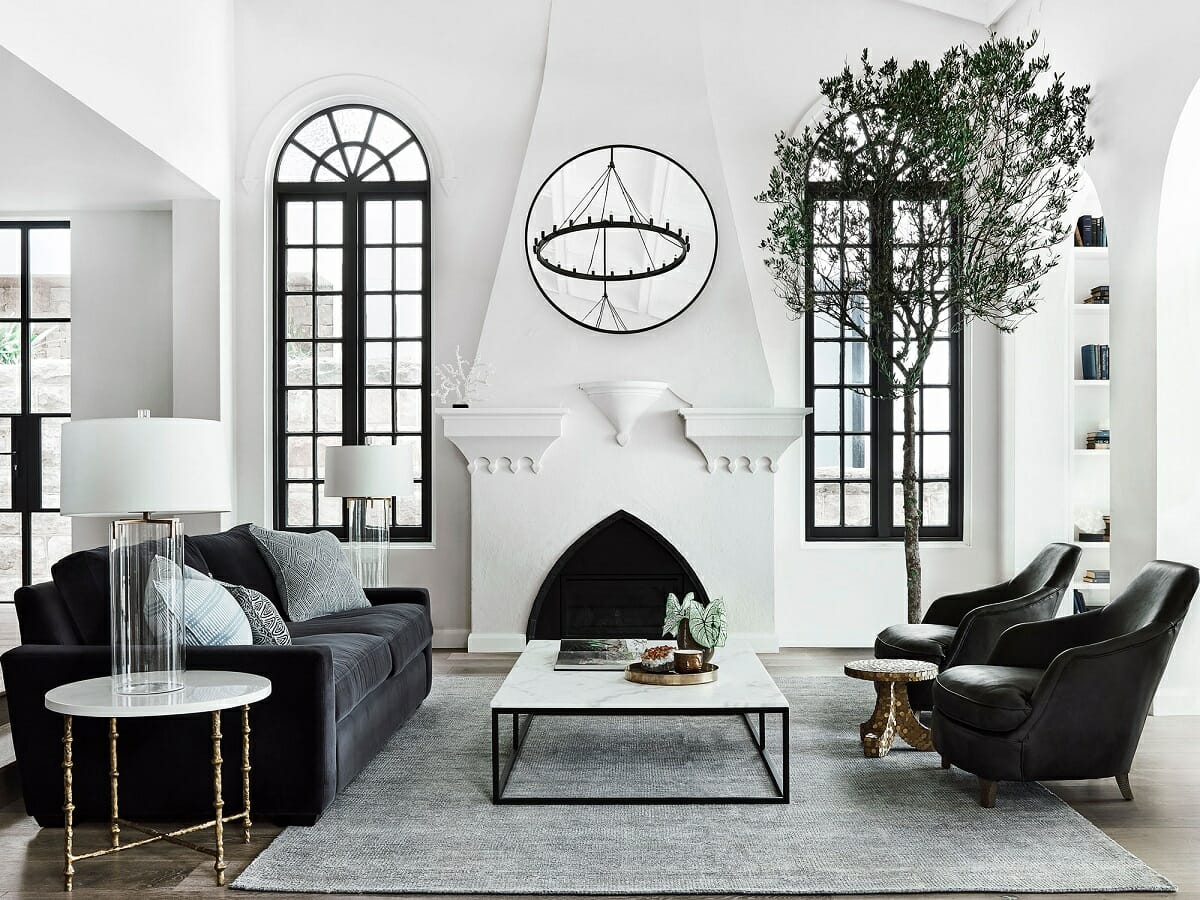 If any place should feel like home, it's the living room. It's a space made for lounging, socializing, movie nights, or even sneaky snacking. It's no wonder the most central part of an abode must fit your life like a glove. So today, we look at how designer TLC can make this space shine – read on for a few of our favorite living room makeovers!
Real Living Room Makeovers
Whether a living room or family room, your lounge must fit your lifestyle and personality. And achieving this is easier than one might expect. These clients below know just how simple and fuss-free it can be! Now, they have stunning spaces thanks to exceptional living room transformations. 
Pro tip: Knowing your interior design style can help guide your living room makeover!

 Take our

Free Interior Design Style Quiz

to discover your unique decorating style today!
1. Contemporary Elegance
This online living room design encapsulates the essence of exceptional living room makeovers. It's grandiose yet refined. However, it took an expert to transform a blank canvas into the epitome of livable elegance. 
Before & After
As far as living room transformations go, this project boasts a complete change. To do this, the designer modernized the room's structure. Dated arched alcoves and a step wall gave way to an elongated facade with tall rectangular recesses. As a result, this feature wall sets the tone for a luxurious space. 
Now, it dons swooping floor-to-ceiling curtains, elevated mid-century modern furniture, and luxe décor. The final open concept certainly fits its beautiful seaside setting. The living room is ready for high-end hosting and luxurious living. 
2. Relaxing Coastal Boho
Using a theme to guide your interior design is a sure way to create a cohesive home. From color scheme to textural elements, this small living room makeover features calming ideas. It also has one of the best sectional sofas at its core. 
Living Room Makeover Before & After
At the start of the project, the space was all-white and stark – far from what the owners wanted. Fortunately, the finished interior matches its coastal setting with neutrals evoking sandy beaches. 
Although compact, the living room has plenty of versatile furniture options that can double as guest seating. Wood, stone, and linen finishes give the space an organic air. And in the end, the space is undeniably inviting and stylish. 
3. Glam Meets Farmhouse
Even when your favorite styles conflict, top interior designers can make them work. Here, modern French farmhouse blends with a bold glam style. And the result is a timeless, comfortable and oh-so-sleek interior.   
Living Room Remodel Before & After
Before, the room felt dark and dated. But soon a bright color palette and contemporary furniture reinvigorated the interior. It echoes the cerulean blue from the pool outside and the sunny tones of summer.  
Though glamorous, the interior feels relaxed. Modern farmhouse details, like wood floors and exposed beams, add an earthy touch. With a neutral base, the open living and dining space will shine for years to come. 
4. Moody Eclectic Design 
In-between spaces can be so much more than a filler – with great design. Here, a deep teal sets the tone for a moody lounge perfect for entertaining. Besides, a small living or ex-dining room often makes the best spot for experimental makeover ideas. 
Living Room Makeover Before & After
Before, the disused dining room was gloomy and uninspired. But with a few inspiring ideas and an interior designer's know-how, it transformed into a dapper spot for cocktails and late-night chats. 
Gold accents complement the rich wall color, while a symmetric furniture layout complements the air of formality. That said, the fun patterns and greenery lighten the aesthetic. As a result, the space urges you to linger for longer.  
5. Designer Scandi-Inspired 
Small can feel spacious with the right living room makeover ideas. This monochromatic interior shows just how a light scheme can brighten and expand an interior. Moreover, bold designer accents add interest from the ground up. 
Before & After
The living room was dark before its makeover. First, the fireplace mantel had to go, in favor of a sleek front and a fresh coat of paint for the built-in shelves. Parisian design comes through strong with mismatched accent chairs and a Roche Bobois bubble couch. 
Now the interior is light-filled and feels just right. It's a memorable space showcasing iconic furniture design and exquisite living. 
6. Mid-Century Living Room Makeover
Bigger isn't always best – especially without guidance. However, in the right hands, a sizable room can be amazing. Here, the generous space led to reforming and division. As a result, the interior is a combined living and dining room complete with a compact library. 
Before & After
Mid-century modern furniture features in both the before and after. Initially, however, the furniture was ill-matched. Conversely, the new picks for the makeover were cohesive and refined. They followed more than a similar era, but also corresponded in color scheme, size, and proportion. 
This living room is among the many transformations that skip a full remodel. It creates a new vibe by getting the basics right. Spatial planning and a color palette certainly go far in making a dreamy interior. 
7. Cape Cod Classic
Transitional meets French country chic in this Cape Cod design. The final space is a modern and comfortable environment perfect for both family and friends. Rustic elements create a relaxed air while elegant accents provide structure. 
Before & After
Traditional design dressed the living room before the makeover. It was cozy but lacked style and refinement. After the update, the lounge flowed from one area to the next, thanks to cohesive material use and a unified color scheme. 
The result is a light and airy interior with plenty of aesthetic allure. It's timeless because of the furniture picks and neutral hues. Plus, it creates a beautiful and serene backdrop to appreciate the lush exterior.
8. Formal but Fun Family Room
Intimate and luxurious – this living room boasts more than a sophisticated design. It also has a grand piano as a functional decorative element. This is a great example of a high-end look that feels accessible too. 
Living Room Makeover Before & After
Before, the layout felt awkward and cold, despite its plush features. Now, a symmetric layout and a grand rug structure the interior. Longer curtains also dress the tall room much better. 
The family room packs a lot of detail and seating into the makeover while keeping a good flow. As a result, the atmosphere is cozy and polished. The black and white theme also complements the original marble flooring.  
9. Refined Wood Cabin  
Few places are as alluring for get-togethers as a cabin in the woods. But such a traditional space can feel heavy and gloomy because of the warm and dark tones of wood and stone. Fortunately, this family room makeover feels light and comforting. 
Living Room Remodel Before & After
An awkward layout and ill-placed furniture made up the room before. It huddled into the corner of the room with the TV as its focus. Now, the design spreads throughout the space and flows from one zone to the next. A separate media nook, central sitting area, and compact lounge with a grand piano form the design. 
Transitional furniture complements the timber home, it's in perfect harmony. Staying true to the setting, warm tones contrast with refreshing whites and fresh green. All in all, the transformation is beautifully timeless. 
Is your living room in need of a makeover?
A new interior is a click away. Simply schedule a Free Interior Design Consultation to chat with our industry-leading designers and get started today! 

[Feature Image: Real Estate]